Departments
Digital Publications | Staff Directory
We collaborate with the News Bureau and campus communicators to amplify compelling and timely stories about our faculty, staff, students, the research happening on and off-campus and its impact on local and global communities. View our stories at: Show Me Mizzou
Digital Service | Staff Directory
Our team implements and maintains the digital infrastructure required to meet the communications and marketing goals of the University of Missouri and the University of Missouri System. Digital Service promotes and creates highly effective digital experiences using best practices for design, technology and standards.
Executive Communications | Staff Directory
Executive Communications helps convey the excellence and impact of the University of Missouri. We handle remarks, speeches, statements and outreach on behalf of the university's Chancellor. We also help develop and execute major speaking opportunities, events and public engagement opportunities that demonstrate the breadth and depth of Mizzou and our community.
Licensing and Brand Management | Staff Directory
We protect and promote the marks, names, and logos of the University of Missouri as well as operate as the steward of Mizzou's brand – from developing the look and feel, to providing education and marketing resources for campus-wide use. Help keep the Mizzou brand strong by visiting the identity website before creating any promotional materials. 

Businesses should request a license before printing or producing materials bearing the University's name and/or marks. Faculty, staff, and students should always order from licensed vendors.
Our team operates campaigns for undergraduate enrollment and general Mizzou brand awareness as well as campaigns for the University of Missouri System. Often working with other departments in the division, we contribute to web development, executive communications, and Digital Publication projects.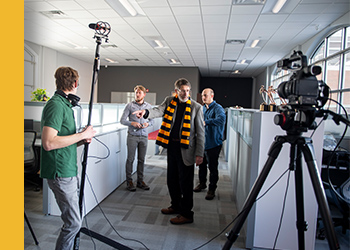 Mizzou Visual Productions | Staff Directory
We are the creative media team, specializing in educational and promotional video productions for the University of Missouri and the UM System.
News Bureau staff members serve as official institutional spokespersons and also assist students, faculty and staff who have information to disseminate about the university or who are approached by reporters. In this role, the News Bureau reflects the administration's philosophy that public, land-grant universities have an obligation to keep the public informed about services, activities and resources available to them, and to respond to questions or concerns.